Why choose Toyota Genuine Parts?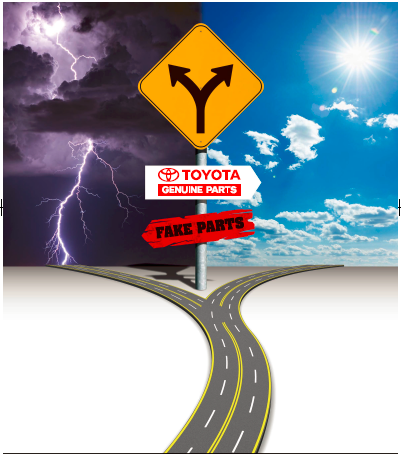 2020, March 19
Toyota Genuine Parts
For peace-of-mind that comes from 100% certainty, we do recommend our customers to use Toyota Genuine Parts. Every Toyota Genuine Part is approved by the engineering team that developed your car.
These parts are designed specifically for your vehicle, subject to Toyota's exacting standards in terms of quality and reliability and only fitted by specially trained technicians.
For safety, performance and peace-of-mind, choose Toyota Genuine Parts.
Why choose Toyota Genuine Parts?
Toyota Genuine Parts undergo extensive testing to comply with all recognized regulatory, safety and environmental requirements.
Through continuous investments in research and development and cutting-edge technology, Toyota Genuine Parts are guaranteed to provide superior quality, reliability and durability.
Toyota dealers make use of advanced parts catalogue systems to ensure the part supplied is applicable to your specific vehicle, taking the risk of using the incorrect part out of the equation.
Genuine VS non-Genuine
When buying replacement parts for your Toyota, there is no better option than Toyota Genuine Parts for the following reasons:
While non-genuine parts may seem attractive due to favorable pricing, they will cost more in the long run due to reduced functionality and substandard quality. The saving when buying non-original parts is insignificant compared to the potential cost of repairs due to damage or failure.
The lack of precision in the design and manufacturing of non-genuine parts often lead to poor fit and compatibility. With Toyota Genuine Parts, there are no compromises – they are guaranteed to fit and work.
Although non-genuine parts may seem like an exact replica of Toyota Genuine Parts, they are often made from low-grade materials. This inherent lack of quality makes non-genuine parts less effective and shortens their period of serviceability.
Fitment of non-genuine parts will jeopardize the validity of your Toyota's manufacturer's warranty which could have expensive consequences should major components fail and will impact negatively on your vehicle's resale value.
Back to the list